Calder Valley Community Land Trust
June 2018
June newsletter is now out. Also available, newsletters sent out in May, April March, January, Dec 2017, Oct, Sep, May, April, March and February last year.
Public meeting: Housing: What can community-led initiatives achieve? Monday July 2nd 7.30pm, Waterfront Hall, Hebden Bridge Town Hall
Speakers: Jo Lavis (National CLT Network), Bill Bewley (Keswick Community Housing Trust), Steve Hoey (Leeds Community Homes)
This is the second of our series of five public meetings we are arranging between June and October, on issues related to housing. Our first event on June 4th went off very well (photo below) with three excellent speakers and we are sure our July meeting will be equally stimulating.
There will be plenty of time for discussion. We expect that the meeting will finish at around 9 pm. All welcome!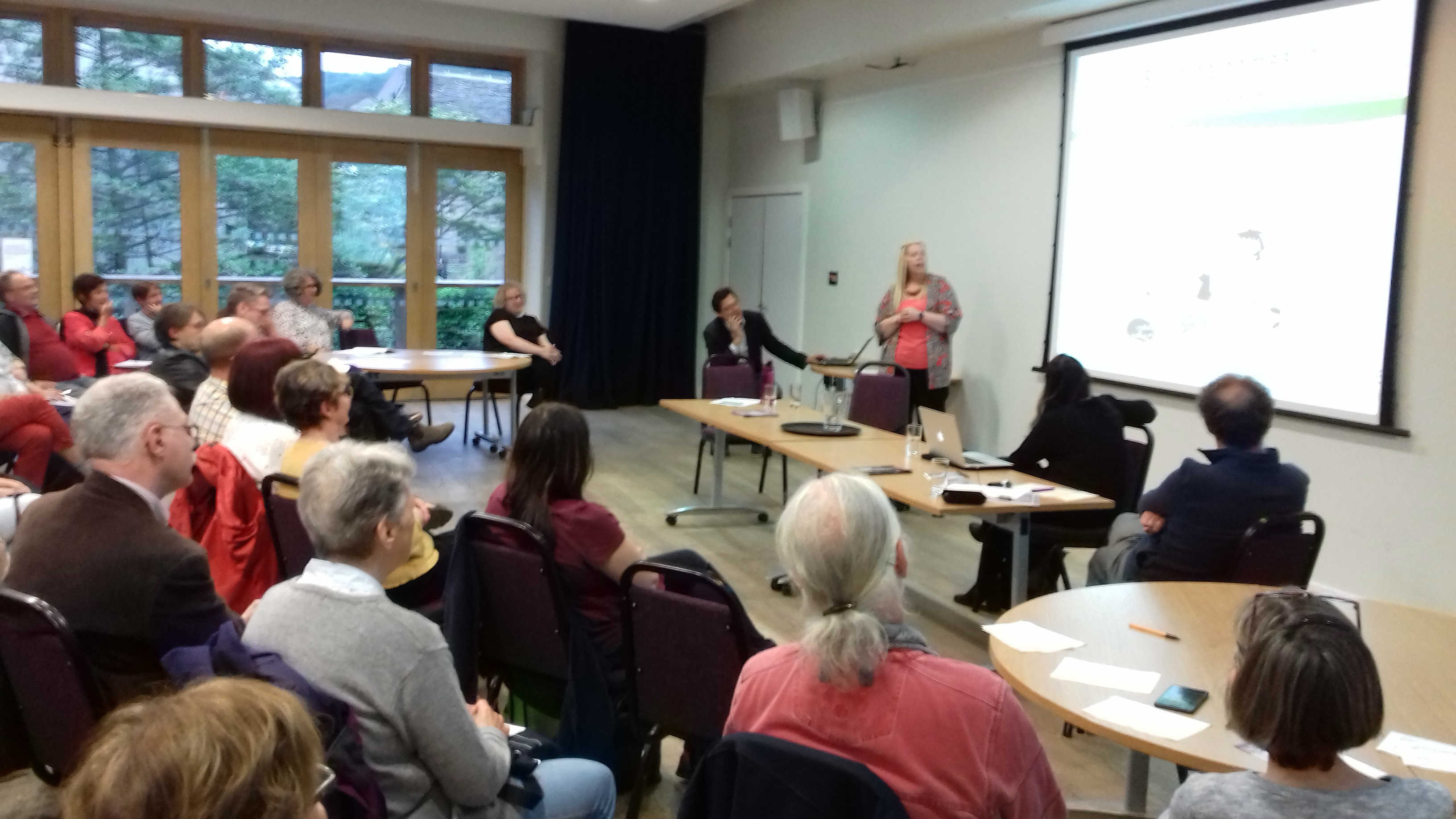 And then later...

Our remaining events are on Wed Aug 22 (sustainability in housing), Mon Sep 24 (investing ethically in new housing) and Mon Oct 29 (putting the vision back into public housing).

Two letters to put after our name

Our main news this month is something which we're very pleased about, but where you may struggle a little to appreciate our enthusiasm.

We heard last week that we have been successful in our application to become a Registered Provider - an 'RP'. This is what used to be known as a 'registered social landlord' and what it means is that we will now be able directly to tap into grant funding for affordable homes from Homes England, without having to ask a housing association to help us. We wanted to retain as much control of the homes we will be building locally, and RP status will enable us to achieve this.

t means in particular that we can now immediately start moving on the development at Walsden, which - you may remember - is for six independent living bungalows for older people. We received planning permission for this last autumn and have been impatiently awaiting the RP status to be able to appoint the contractor. Finally, finally, we will have something happening on the ground!

Incidentally, we have been seen as a national test case in regard to becoming an RP. Most Community Land Trusts elsewhere have so far chosen not to go through the extremely rigorous process of assessment, so we are conscious that we are under the spotlight at the moment in this regard. It's good to have come through the process successfully.

Public consultation on Hebden Bridge development

After more than two years of planning, surveys, architects drawings and financial planning we expect to apply in July for planning permission for our new development of homes at affordable rents in what was (until the 1960s demolitions) High Street, Hebden Bridge.

New: FAQs leaflet

We had hoped to be ready for planning in May. However it became clear from recent meetings and conversations with people living locally that there were some concerns about the plans as we presented them at the consultation in April. We will get only one chance to rebuild High Street for the future so we have to get it right, and we want if possible to respond positively to comments and feedback. We have therefore met with the architects and asked them to revise the plans. The main change will be to reduce the density of the development, particularly at the western end which is closest to Bridge Lanes. This means that the number of homes to be created will be twenty, a mixture of one-, two- and three-bedroom flats.

Thank you if you came to our well-attended public consultation on April 21st, to our display in the Hebden Bridge library on April 27th or to our session at Chapter 17 cafe/bar designed primatily for younger people. If you would like further information, please do contact us.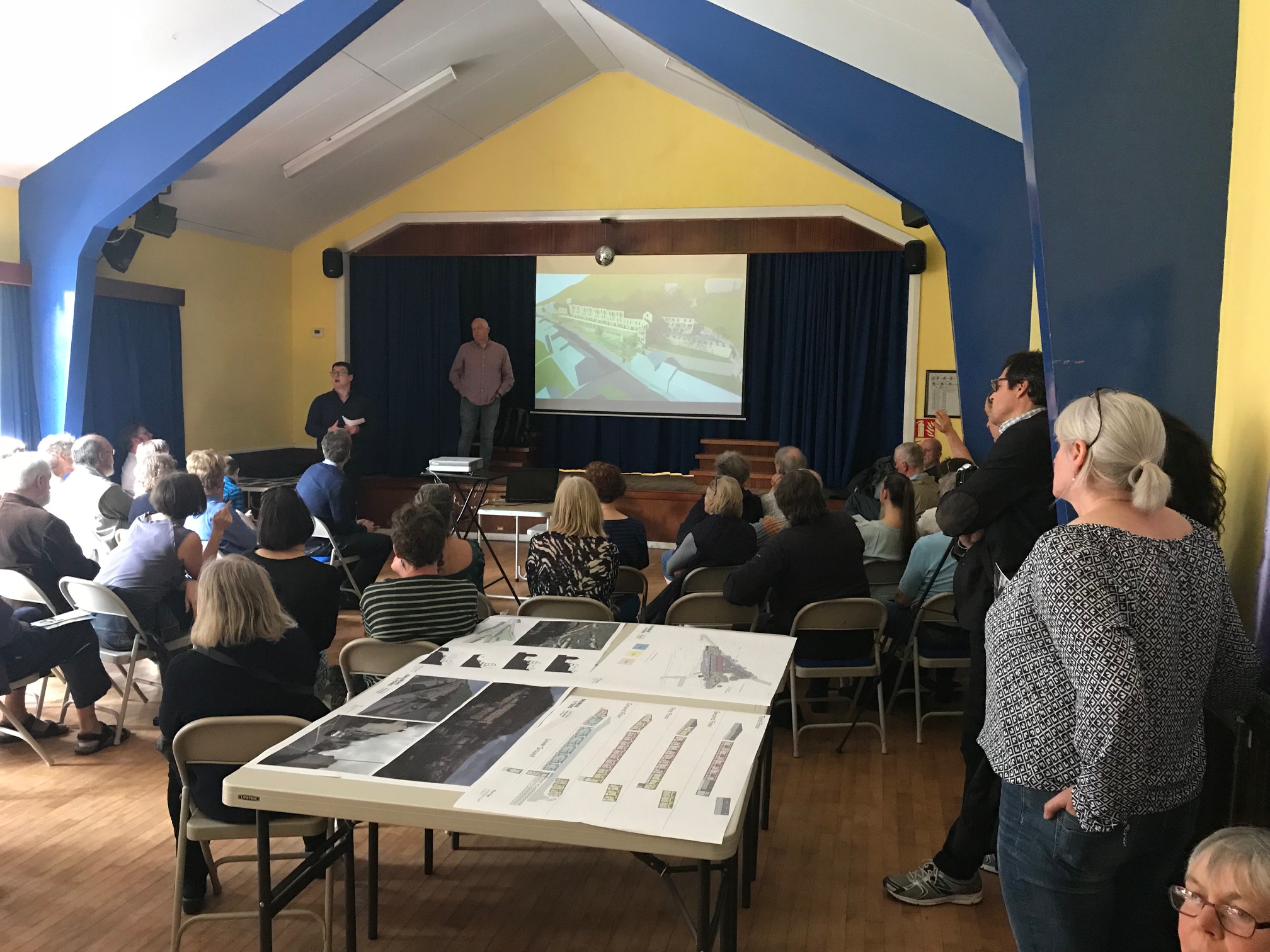 The focus will be on providing homes in particular for local young people and families who are being priced out of the housing market locally.
The dedicated High Street webpage here has more details.
Share issue 'pledge' leaflet update
Thank you if you came along in February, when we launched our community share 'pledge' leaflet at Hebden Bridge Town Hall (photo below). We were pleased to have such a good turn-out and heartened by the interest shown.
You'll know if you were there that we are planning to launch an ambitious community share issue later in the year, to raise £500,000 in investment from within the community to help fund the proposed Hebden Bridge development of affordable homes to rent. (You'll also know that we won't be asking for anyone's investment until we have planning permission and have completed work on the share prospectus.)
If you are prepared to take a small quantity of the 'pledge' leaflet to pass on to friends, colleagues and neighbours, please let us know by emailing info@caldervalleyclt.org.uk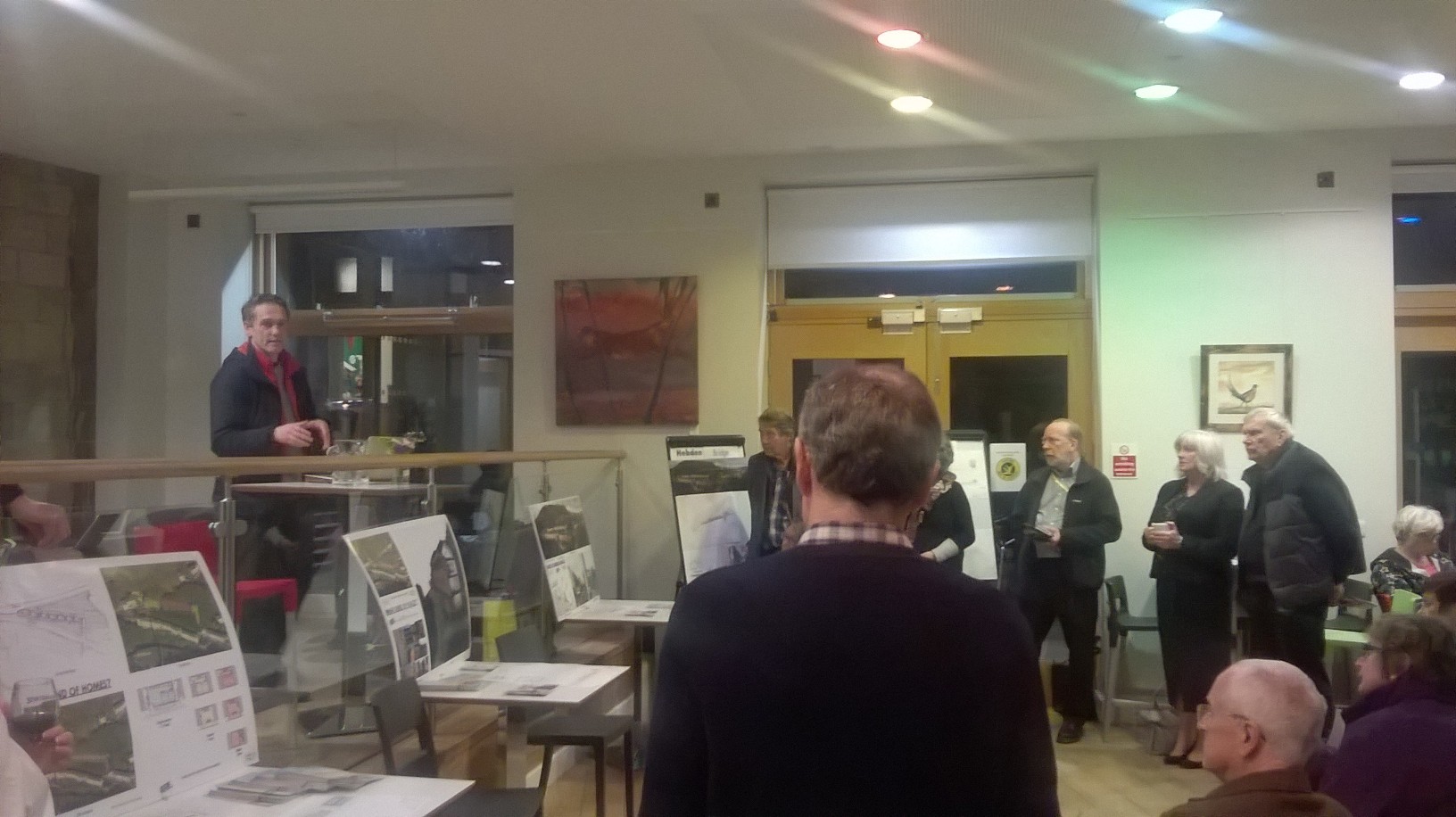 £500,000 will be the largest community share issue ever attempted in Britain for community-led housing, but with strong early support we're feeling increasingly confident that we will get there.
Community Foundation for Calderdale also expect to invest
We're also delighted to say that, following discussions with two of the trustees and the CEO of the Community Foundation for Calderdale, the Foundation's trustees have taken an in-principle decision to invest £100,000 in the Hebden Bridge development.

This is subject to discussions on the terms, but is a very welcome fillip to the CLT.

Investment from CFFC will be a valuable additional source of investment capital for what we're planning to do.