We have great pleasure in inviting you to the celebratory event at our new Birks Court development in Walsden on Saturday Feb 29th.  All CLT members and friends welcome.  We will be holding 'open doors' from 1pm and there will be a short Grand Opening ceremony at 3pm, when we will welcome the Mayor of Calderdale and the Mayor of Todmorden. Refreshments available, and we hope also to have some live music!
The application process for potential residents of our four bungalows at Walsden is now under way. The bidding process on Keychoice has now closed and a supplementary questionnaire is being sent to those people whose names have been passed to us by Keychoice.
The bungalows will be allocated to people over 65 with at least ten years' residency in the Todmorden Town Council area, or exceptionally to those who have very strong reasons for needing to be housed in Todmorden.
Applications will be assessed on housing need. The CLT has asked two independent housing experts (one from a local housing association and one from the council) to join them on the Allocations Panel to ensure that procedures are followed fairly. We know that demand will be high, and we are very sorry that not everyone who applies will necessarily be able to be allocated a bungalow. We expect the Allocations Panel to meet in mid-February to make the final decisions.

The project is a partnership between the CLT and John Eastwood Homes, the local almshouse charity which already owns twelve bungalows nearby .
We will own four of the new homes with John Eastwood owning the remaining two, and providing the management service for all six.
The land for the bungalows was gifted by Calderdale Council to CVCLT specifically for affordable housing, and we have also been able to attract government grant support (totalling £240,000) from Homes England.
The plans and our original planning application can be found on Calderdale's website here.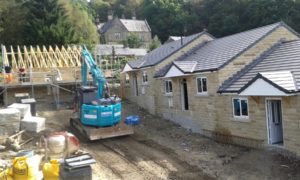 We have appointed Todmorden-based Storah Architects.
We acknowledge with grateful thanks the £20,000 grant and a £25,000 interest-free loan from the Quaker Housing Trust for the development.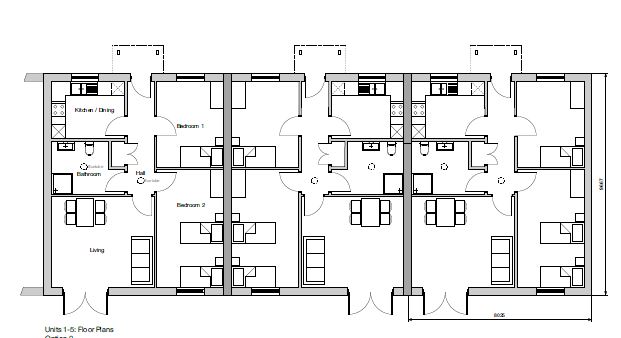 Interior layout of our bungalows
Calderdale council press release here. And here below is the story you may have seen in the Todmorden News about the development.