Calder Valley Community Land Trust
Calder Valley Community Land Trust Ltd is a community benefit society in the communities of Todmorden, Hebden Bridge and Mytholmroyd in Calderdale, West Yorkshire. Established in September 2014 at two public meetings, our focus is on community-led affordable housing initiatives in our valley. We also hold land and buildings on behalf of the community.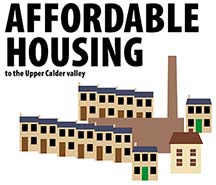 Community Land Trusts (charitable bodies under direct community control) have worked well in other towns in Britain and we are excited to be bringing the concept to our neighbourhoods. Calder Valley CLT has been brought into being through the joint efforts of Todmorden Pride and Hebden Bridge Partnership, the two town partnership organisations representing voluntary organisations locally.
Calder Valley CLT has been gifted the ownership of the Fielden Hall (previously known as the Fielden Centre), the beautiful community centre in Todmorden. We are working closely with the Fielden Centre Association, to help them in their work of running a vibrant and successful community resource.
We are working with the Todmorden-based almshouse trust John Eastwood Homes on a project to bring six new independent living bungalows for older people to Walsden. Calderdale council has passed the ownership of land at Birks Lane to the CLT for this development and planning permission has recently been granted.
Finally we are undertaking feasibility work on the possibility of bringing new housing back to High Street, Hebden Bridge, the site of housing cleared in the 1960s slum clearances. Calderdale Council has agreed to pass ownership of this land to the CLT. The CLT's view is that new housing should wherever possible be on sites of former housing or on brownfield ex-industrial land, rather than on greenfield sites.
We are constituted under the Co-operative and Community Benefit Societies Act 2014, as a member-controlled organisation. We have charity status with HM Revenue and Customs (exempt charity registration no. EW35609). We currently have seventy members.
Find out more about CLTs from the National CLT Network.
Subscribe to our regular newsletters!
Personal data: our policy on data protection can be read here
A big thank you to the organisations who have helped fund our work: National CLT Network, Locality (DCLG Community Buildings and Housing grant), Community Foundation for Calderdale, Todmorden Pride, Hebden Bridge Partnership, Todmorden Town Council