Hebden Bridge Signal Box
Our heritage Signal Box has been decommissioned. The Friends of HB Station and Calder Valley CLT are working with Network Rail to preserve and restore the Signal Box for the community.

Community rallies round to save heritage signal box
Calder Valley CLT has been in discussions with Network Rail since 2017, with a view to finding a long-term sustainable solution to the preservation of Hebden Bridge's beautiful signal box. We are negotiating a long leasehold arrangement for the building, and hope that this will be successfully progressed during 2021. 
Hebden Bridge signal box is grade II listed, reflecting its historic importance. However, after more than 125 years as a familiar sight in the town, Network Rail's staff pulled the levers to operate the signals for the last time in the Autumn of 2018.  The signal box was decommissioned following the resignalling work recently undertaken on the Calder Valley line.
Under the proposals, Calder Valley CLT will take on the legal custodianship of the building and will fundraise for initial restoration work and for a community heritage project focused on the work of railway signallers and rail safety. The CLT's charitable objects permit us to hold key public buildings on behalf of the community, and we already hold the Fielden Hall community centre in Todmorden on this basis.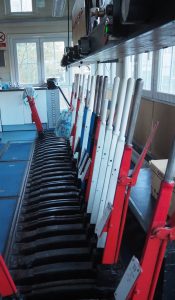 The CLT has received £4,500 from Hebden Royd Town Council, to commission initial architectural feasibility work.  Following a tendering exercise, the CLT has appointed local architect Jacquie Milham (Architectonic Design) to work with us and we anticipate applying to planning for change of use and listed building consent shortly.
We acknowledge the funding commitment already received from the Railway Heritage Trust towards the refurbishment costs. We anticipate applying to the National Lottery Heritage Fund shortly, for further necessary grant funding.
An interesting short video of Hebden Bridge signal box, when it was in operation, has been produced by the Signalling Record Society and is available for viewing here.
A new Hebden Bridge Signal Box Preservation Group has recently been established, to work closely with the CLT and the Friends of the Station.  If you're interested, let us know by emailing info@caldervalleyclt.org.uk.