Our Public Meetings
We will be releasing dates and topics for our 2024 public meetings soon, around the theme Housing: It's an Issue. 
You will find previous meetings, with links (where available) to speakers' presentations, below.
Monday 28th November 2022, How to reduce the impact of Airbnb on affordable homes
Download audio recording of the meeting
Speakers: 
Isaac Rose, Community organiser and researcher at Greater Manchester Tenants Union
Emanuele Dal Carlo, Co-founder and president of Fairbnb.coop
We are hoping local estate agents will share their experiences of the local market.
The final meeting in our autumn 2022 series is a constructive meeting to hear about the impact of Airbnb on the local housing market and more importantly how you can influence keeping affordable homes available for the local community.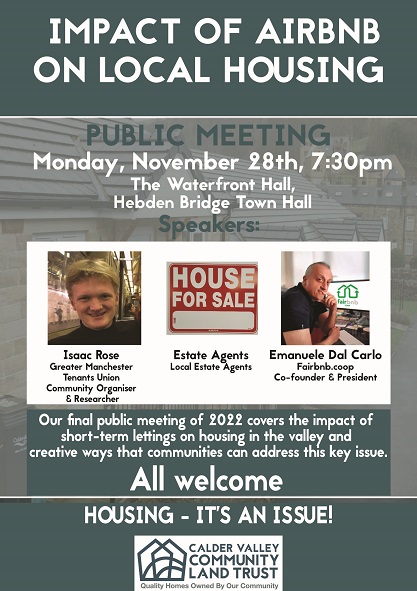 Monday 10th October 2022, Retrofitting your home to reduce energy bills and climate impact
Download audio recording of the meeting
Speakers:
Sally Stone, Reader in Readaptive Reuse, Manchester School of Architecture
Jack Richards, Architect & Retrofit Coordinator, Editional Studio
David Nugent, Chief Executive, Canopy Housing
The Second of our 2022 events has 3 excellent speakers and 3 local people kindly sharing their experience of retrofitting their own homes.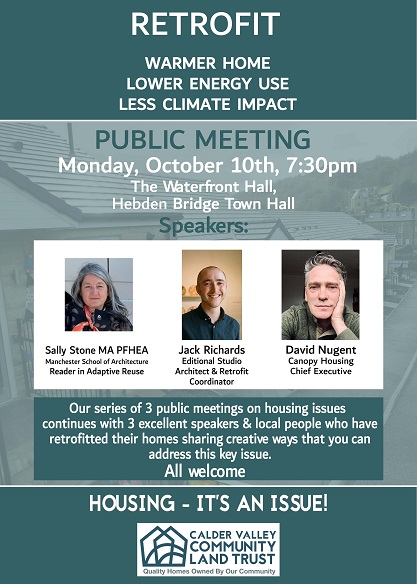 Monday 12th September 2022, Decent Homes in Older Age
Download audio recording of the meeting
Speakers:
Jenny Pannell, Almshouse Researcher, University College London
Tina Wathern, Director of Education and Engagement, Stonewall Housing
Maria Brenton, UKCN Ambassador on Senior Cohousing, Newground Cohousing
The first of our 2022 events has 3 excellent speakers who will be sharing creative ways that communities can address this issue.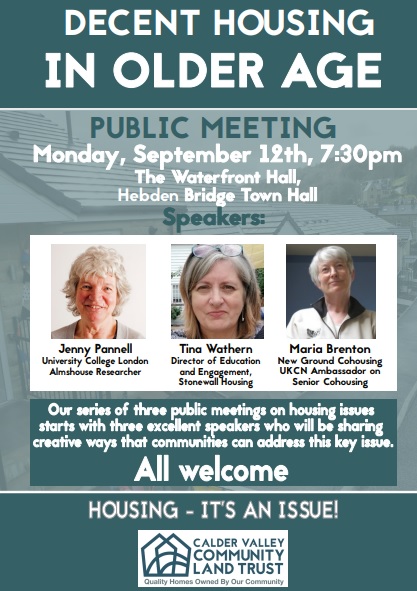 Monday June 4 2018, So what's all this about a housing crisis?
Speakers:
Alison Wallace, Centre for Housing Policy, University of York
Heidi Wilson, Strategic Housing Development, Calderdale council
Fahmida Rahman, Resolution Foundation
Monday July 2 2018, Housing: what can community-led initiatives achieve?
Speakers:
Jo Lavis, National Community Land Trust Network
Bill Bewley, Keswick Community Housing Trust
Jimm Reed, Leeds Community Homes
Wednesday August 22 2018, Making New Housing Sustainable and Energy Efficient
Speakers:
Duncan Roberts, architect, formerly at Centre for Alternative Technology (18 Mb file size)
Marianne Heaslip, URBED
Andy Brown, Carbon Conversations
Monday September 24 2018, Ethical Investing in New Housing
Speakers:
Hugh Rolo, Locality
Jamie Hartzell, Ethical Property Company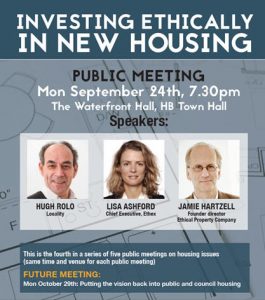 Monday October 29 2018, Putting the Vision Back into Public and Council Housing
Speakers:
John Boughton, Author, Municipal Dreams: The Rise and Fall of Council Housing
Prof. Rebecca Tunstall, Joseph Rowntree Professor of Housing Policy
Eileen Short, Chair, Defend Council Housing campaign
If you'd like to be kept up-to-date with information on our series of public meetings and other news about our progress and events, sign up to our mailing list.
We will keep your email address private and you can unsubscribe at any time.
Personal data: our policy on data protection can be read here