Our Public Meetings
We were delighted with the success of our series of five public meetings, on the theme Housing: It's an Issue. These were held in Hebden Bridge Town Hall between June and October 2018.
We give below details of the meetings, with links (where available) to speakers' presentations.
Monday June 4, So what's all this about a housing crisis?
Speakers:
Alison Wallace, Centre for Housing Policy, University of York
Heidi Wilson, Strategic Housing Development, Calderdale council
Fahmida Rahman, Resolution Foundation
Monday July 2, Housing: what can community-led initiatives achieve?
Speakers:
Jo Lavis, National Community Land Trust Network
Bill Bewley, Keswick Community Housing Trust
Jimm Reed, Leeds Community Homes
Wednesday August 22, Making New Housing Sustainable and Energy Efficient
Speakers:
Duncan Roberts, architect, formerly at Centre for Alternative Technology (18 Mb file size)
Marianne Heaslip, URBED
Andy Brown, Carbon Conversations
Monday September 24, Ethical Investing in New Housing
Speakers:
Hugh Rolo, Locality
Jamie Hartzell, Ethical Property Company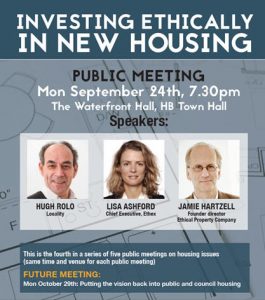 Monday October 29, Putting the Vision Back into Public and Council Housing
Speakers:
John Boughton, Author, Municipal Dreams: The Rise and Fall of Council Housing
Prof. Rebecca Tunstall, Joseph Rowntree Professor of Housing Policy
Eileen Short, Chair, Defend Council Housing campaign
If you'd like to be kept up-to-date with information on our series of public meetings and other news about our progress and events, sign up to our mailing list.
We will keep your email address private and you can unsubscribe at any time.
Personal data: our policy on data protection can be read here