December 2018
News Flash

– Mini 'pioneer' share issue for Walsden

We are undertaking an immediate 'pioneer' community share issue to contribute £50,000 to the funding package for our development in Walsden of six independent-living bungalows.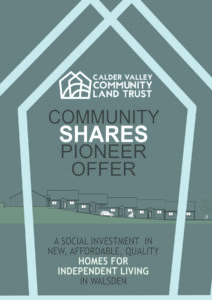 We are looking for a small number of investors of between £2,000-£5,000 each and will be approaching some of you who indicated that you expected to be able to invest in the main Hebden Bridge share issue to see if you are prepared to invest in Walsden instead/as well. Interest will be initially set at 2% from 2020.
We're not going to advertise this as a public share offer, and there won't be any of the large-scale razzmatazz we've been planning for the main launch next year.  But do let us know if you are interested. An offer document is available.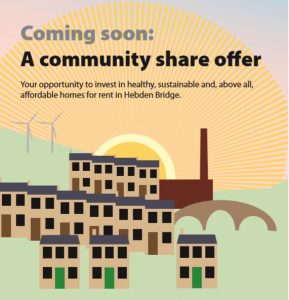 Building homes for the future – together!
Calder Valley Community Land Trust believes that community-led efforts can help achieve the new homes we really need in our Valley.
Our first development of six bungalows for independent living is getting underway in Walsden.  Now we want to bring much-needed new affordable homes back to an area of Hebden Bridge which once had terraced housing. We submitted our plans for the development of 20 homes at High Street (off Heptonstall Rd) for planning approval in July 2018.
We will be raising capital for the development partly through a Community Share Issue.  We hope you may be interested in being one of our investors. More details are in our pledge leaflet.
The investment
We hope to raise £500,000 through our Community Share Issue. This will be an investment primarily for social rather than financial benefit, which will deepen community ownership of the homes. However, we anticipate paying interest, likely to be 2%-3% a year.
Investments can start at £250; the maximum for any individual will be capped at £40,000.
Holders of shares will be members of the Calder Valley Community Land Trust and will have voting rights in the society (each member has a single vote).
 When will this happen?
Because of a backlog of planning applications at Calderdale council, we now expect our own planning application to go to committee in February 2019. This delay means that we now expect to launch the share offer in the spring of 2019.  We will be preparing a detailed offer document and business plan, so that all investors will know about the social and financial sides of the development, and why we believe it will be a secure place to put your money.
We will not be asking for investment capital until we have secured planning permission.
Register your interest now 
You can register your potential interest in the share issue now.  This is without obligation, but means that you will receive details of the launch event and will receive the share offer document when it is available.
You can register your interest by emailing us on info@caldervalleyclt.org.uk. Let us have your name, address and email address and we will do the rest.
Make a provisional pledge!
If you think you are likely to be able to invest next year, it will help our planning if you can advise us now. This is entirely without legal obligation, and you will be able to decide whether to invest, and if so how much, when the offer document is launched.
Email us on info@caldervalleyclt.org.uk.
You can paste the form below into your email, ticking the amount you expect to invest.
I anticipate at present that I will be interested in making an investment in the Community Share Issue of:
£250                      
£500             
£1,000
£2,000
£3,000            
£5,000               
£7,500            
£10,000
£20,000
£40,000               
Name:
Address:
Email:
More about Community Shares
On September 24 2018 we are hosting a public meeting on 'Investing ethically in new housing'. Find out more about community shares and how you can invest your money ethically and drive the positive change you want to see by joining us there.
There is a lot of information on how social investment is working to drive real improvements for communities across the UK at the Communityshares.org. 
You can find out more about what community shares are, here.