CVCLT and the Friends of Hebden Bridge Statement have issued a joint press release and leaflet to increase awareness of the future of our listed Signal Box:
Community rallies round to save heritage signal box
Two community organisations are working together in partnership, with the aim of safeguarding a familiar part of Hebden Bridge's heritage.
Hebden Bridge signal box is grade II listed, reflecting its historic importance. However, after more than 125 years as a familiar sight in the town, Network Rail's staff will pull the levers to operate the signals for the last time very shortly.  The signal box is due to be decommissioned following the current resignalling work being undertaken on the Calder Valley line.
The future of the signal box thereafter is at present unresolved. Network Rail has planning permission to remove the steps and put grilles over the windows.  However Network Rail has also been approached by the Friends of Hebden Bridge Station and the Calder Valley Community Land Trust (CLT), who together have developed a proposal for the building to be saved, restored to its former Lancashire & Yorkshire Railway glory, and properly looked after in the future.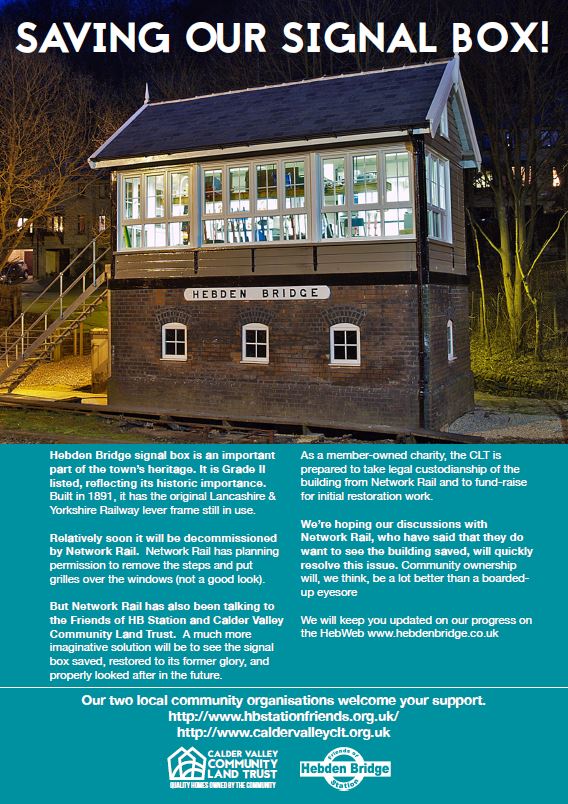 Under the proposals, Calder Valley CLT, the locally based member-controlled charity, would take on the legal custodianship of the building and would fundraise for initial restoration work. The CLT, established in 2014 by the joint efforts of Hebden Bridge Partnership and Todmorden Pride, promotes community-led housing initiatives locally to bring more affordable housing to the upper valley.  The CLT's charitable objects also permit it to hold key public buildings on behalf of the community, and it already holds the Fielden Hall community centre in Todmorden on this basis.
The two community organisations plan to establish a new Friends of the Signal Box group, to be directly involved in the restoration of the box and its subsequent management.
Andrew Bibby, Secretary of Calder Valley CLT, said: "We are delighted to be working with the Friends of Hebden Bridge Station on this venture, and believe that community ownership of the signal box is the best long term solution. We have already identified a number of grant-making trusts who we intend to approach for financial assistance in the necessary restoration work."
Lesley Mackay, Chair of Friends of Hebden Bridge Station, said: "It would be tragic to see the signal box out of use, boarded up and a target for vandalism. We believe that our two community organisations can together bring about a much more acceptable way forward."
Both organisations have held exploratory discussions with Network Rail, who recently confirmed that they too wish to see the building preserved. More discussions are planned, with the Friends of the Station and the CLT hoping that a quick resolution will be reached.
The groups have been giving out leaflets about their initiative to railway travellers in recent days, and promise to keep local people regulated updated on their progress with Network Rail.
More information:
Lesley Mackay 01422 845260, Andrew Bibby 01422 844026