Subscribe to our newsletter!
Our 2020 newsletters:  August  July  June May  March, Feb.  And our 2019 newsletters: Dec, Sep, July, May, April, March, Feb
Our latest news

Social impact survey

Can we ask you to help the CLT, by completing an online survey to try to assess the social impact the CLT is making locally?  It's very short (only 9 questions!)
Each year we complete our annual financial accounts.  However, we'd also like to include with the accounts an assessment of the social impact of our activities.  It isn't necessarily easy to measure the social value we add, but we are going to try our best this year.  As a first step, we have devised this survey to try to get a sense from our members and supporters (ie, you!) of what you think about our work. Be as honest as you like!
You will find the survey here: https://docs.google.com/forms/d/e/1FAIpQLScqXqxbn8Owiv9xO9fMMGdgNzjd5v-06HVexnOFv2DLcQvh9A/viewform?usp=sf_link  .There's a shortened link to the same website here: https://forms.gle/fJP19a4QypNn3kCJ9
CVCLT is getting known 
We're one of the few Community Land Trusts in the country to have chosen to become a Registered Provider of Social Housing, and to submit to the regime overseen by the Regulator of Social Housing. The Confederation of Co-operative Housing (CCH) thinks this makes us potentially of interest to other CLTs, and have commissioned Phillippa Hughes of Sheffield University to research and write a short case study. You can read it here: https://www.cch.coop/wp-content/uploads/2020/08/cch_casestudy_Calder-Valley-WEB-SINGLES.pdf
National publicity for Walsden development too
Our Walsden development has also attracted national attention. We must admit that we're pretty pleased that a photo of Birks Court is on the home page of the National CLT Network's website (http://www.communitylandtrusts.org.uk/).
The Housing Learning Improvement Network include an account of our partnership with local almshouse John Eastwood in a recent briefing note: http://www.caldervalleyclt.org.uk/docs/HLINViewpoint.pdf. We're also featured in the latest issue of Almshouse Gazette: http://www.caldervalleyclt.org.uk/images/AAGazette.jpeg
Community share issue is imminent 
Despite covid-19, we are delighted to say that our plans for a community share issue to acquire the buildings and land adjacent to the Fielden Hall in Todmorden are now well advanced and we are working actively now on the marketing. This will be a chance for local individuals and groups to make an interest-bearing withdrawable share investment in the CLT (min £250, max £20,000).  Details shortly.
 Strengthening the CLT
As you'll probably know from past newsletters, we have recently run a recruitment campaign to bring in another 2 or 3 new trustees.  We've been delighted with the response: four very strong applications from local people. The holiday period has slightly delayed things, but we hope to have our new trustees with us next month.
And that's when we'll also be ready to launch our CLT Advisory Panel to enable us to have a group of people with specialist knowledge we can turn to when we need advice.  This will enable us to make use of the skills of people who are perhaps too committed to be able to join the board of trustees.  There will be full details of the Advisory Panel launch next month.
HB Signal box update
We now have detailed plans from our architect Jacquie Milham and costings from our quantity surveyor Andrew Webster, to enable us to progress the project and seek grant funding. The Railway Heritage Trust has in principle agreed to part-fund the work, but the National Lottery Heritage Fund (with whom we have discussed a possible funding bid) are not currently accepting new applications, because of covid-19.  There is therefore an inevitable hiatus. 
Once we have been able to submit a bid to the Heritage Fund we will also be able to go back to Network Rail, to negotiate the details of the proposed leasehold transfer.
In the meantime, we've just been told that an interesting video showing the signal box in use has been made produced by the Signalling Record Society and can be viewed on their website here.
Walsden development is case study for flood alleviation
We are impressed by the work which the Slow the Flow Calderdale group has been undertaking in recent years to try to help alleviate some of the flooding problems the valley has been suffering in recent years, so we're delighted that our Birks Court development in Walsden is now featured on the Slow the Flow website as a case study in good practice.
You'll find the case study here: http://slowtheflow.net/category/case-studies/
 Our Annual Review
We've a new illustrated Annual Review just produced and although we have held back on getting the hard copy version printed until after the current lockdown, the PDF is there to look at.  You'll find it at www.caldervalleyclt.org.uk/docs/2020review.pdf.
What's coming up? 
We took the opportunity at the AGM to brief everyone about the various projects and plans we're working on at the moment.
The venture which is furthest forward is our plan to purchase the complete plot of land on which the Fielden Hall stands in Todmorden, which will include purchase of the two houses which abut the hall at either end. We understand that the houses and land will be on the market shortly, and we want to pre-empt finding ourselves with neighbours who are not sympathetic to having a community centre next door to them. Once bought, we would let the houses out at affordable rents.
We had been planning to launch a community share issue towards the purchase cost this summer, but – of course- covid-19 has necessarily meant a delay. But expect things to be moving quickly as soon as we're past the worst of the lockdown.
Just in time!
Well, in hindsight the Walsden bungalows were completed just in the nick of time.  We are pleased to say that our residents moved in just before lock-down and we understand are already feeling at home.
Our trustees remain busy
Our last four board meetings have been held using Zoom, and have gone off very smoothly.  In fact, we've found that we're getting through the business rather quicker than we normally do (now why might that be?). 
The national picture
Several of our trustees have been participating in Zoom discussions organised by the National CLT Network. It's always interesting to know what CLTs are doing elsewhere, and there is now a great deal of collective experience in the movement. We've been approached recently for advice by two CLTs considering going through the procedure to become 'Registered Providers' of social housing.  Since we are one of the few CLTs with RP status we've been pleased to offer what advice we can.
We have also been hearing about how other CLTs try to measure their social impact and community engagement, something we'd like to do better. So, watch this space for more on this.
Hebden Bridge
As mentioned in our last newsletter, we have received feasibility funding from the Community Housing Fund to do some more work on the proposed development at High St, Hebden Bridge, to see if we can satisfy the planning concerns raised in 2019.  Our thinking now is, if we are able to progress a development on this site, we will probably do it in partnership with another not-for-profit organisation engaged in social housing provision.
Todmorden town centre development
Calderdale's Cabinet approved a paper in March setting out exciting proposals for the Bramsche Square/Rose Street area of central Todmorden. (You'll find it here: https://www.calderdale.gov.uk/nweb/COUNCIL.minutes_pkg.view_doc?p_Type=AR&p_ID=72733). The council has identified the CLT as a potential partner for the proposed residential part of the overall development, and we're naturally keen to talk further to the council about how this would work.  The Rose Street site (where the old health centre was) is flat, and – given its central location – would we feel be very suitable for older people's accommodation.  We'll share more details about this (potentially very exciting project) as soon as we can.
Walsden development complete
Thank you if you were able to be with us for the 'Open Doors' celebration at Birks Court, Walsden on Saturday February 29th. We had well over a hundred people present, there to have a look round the new bungalows, listen to the Tod Community Brass Band and witness the Mayors of Calderdale and Todmorden plant a flowering cherry tree at the entrance to the site (and formally declare the CLT's first development finished!). 
Not only that, but the refreshments raised over £150 for the Todmorden Food Drop In. 
We were delighted that three of our new residents were able to be with us for the celebration. They, and our other tenants, were given their keys on March 8 – and from then on the bungalows have become their homes.  John Eastwood Homes, who have two of the six bungalows, have also welcomed their new residents.  Here's what the Halifax Courier has to say about our progress.
New membership leaflet
We're keen to increase our membership to over the 200 mark and we have a new membership leaflet just back from the printers.  If you can take copies to display somewhere, let us know. info@caldervalleyclt.org.uk.  It's possible to find the form on this website as well. 
ARCHIVE OF PRESS RELEASES:
Wanted!  Local charities' independent-living bungalows need their first residents
(8 Jan 2020)
Bungalows being built at Walsden through the voluntary efforts of two local charities are now nearing completion and will be ready to receive their first residents in March.
The six two-bedroom bungalows help meet a pressing need for affordable housing for rent in the upper valley. All are designed for older people who need easy-to-maintain homes purpose-built for independent living. The two charities, Calder Valley Community Land Trust and John Eastwood Homes, are now inviting applications from potential residents. All six will be available to people over 65 who have a strong connection to Todmorden.
Simon Brearley, Chair of Calder Valley CLT, said: "This development has successfully demonstrated that community-led initiatives can create much-needed new homes through direct bottom-up voluntary efforts. We're absolutely thrilled that our bungalows will soon be being lived in."
Chris Barker of John Eastwood Homes almshouse trust said: "We know already from our existing twelve bungalows in Walsden how much demand there is for accommodation of this kind. We've been delighted to work with Calder Valley CLT in this pioneering community partnership."
The bungalows have been designed with two bedrooms, to allow for residents to receive guests or to have overnight carers. They are on land in Birks Lane, Walsden, close to the main bus route and to the station.
Calder Valley CLT, who will retain four bungalows, is choosing to use the KeyChoice on-line system (also used by local housing associations) for their allocation process and applications can be made this week (January 8) and next. Potential applicants who have not already registered on KeyChoice ares asked to do so as soon as possible. There will also be a short supplementary questionnaire for shortlisted applicants.  The bungalows will be allocated only to people over 65 with at least ten years' residency in the Todmorden Town Council area, or exceptionally to those who have very strong reasons for needing to be housed in Todmorden.
Applications will be assessed on housing need. The CLT has asked two independent housing experts (one from a local housing association and one from the council) to join them on the Allocations Panel to ensure that procedures are followed fairly.
John Eastwood Homes, the local almshouse trust which already has twelve homes in Walsden, will operate a slightly different application process.  Details of how to join the John Eastwood waiting list can be obtained through their administrator David Storah at 46 Halifax Rd, Todmorden (01706 813214). Their criteria are also a little different, and they require applicants to have at least twenty years' residency in Todmorden.
Simon Brearley and Chris Barker both warn that they are expecting very strong demand for the new homes and that unfortunately not everyone who applies will be able to be selected.
The development has been overseen by the volunteer trustees of Calder Valley CLT, a member organisation with 150 local supporters as members.  The total cost is over £800,000, and the funds have been found in part through a grant from the government's agency Homes England of £240,000. Local people have contributed over £60,000 in community share investments and John Eastwood Homes has also invested in the project, as well as meeting two-sixths of the total build costs. Further support has come from the Quaker Housing Trust and Calderdale council, which gifted the land to the CLT.  A bank loan of £170,000 completes the funding package.
Simon Brearley added: "It's taken four years of hard work to get the finance assembled and to progress the detailed plans for the development. Our builders have also had to cope with particularly wet Autumnal weather. But, once completed, we're sure that these six new bungalows will very quickly become a much-loved addition to local Walsden life."
The two charities will be holding an open day to celebrate the completion of the bungalows in late February.  
Building work starts on six new bungalows for local older people
(Press release, Mon March 4 2019) An innovative community-led housing initiative which will see the construction of six new independent-living bungalows in Walsden gets under way on Thursday March 7th.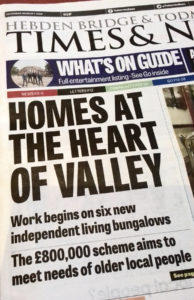 The bungalows, which will be let on affordable rents to local older people, are the result of a successful partnership between the Calder Valley Community Land Trust, the Todmorden-based almshouse charity John Eastwood Homes and Calderdale Council.
The Walsden project is the first development for Calder Valley Community Land Trust, and as such represents a real landmark for the organisation. The CLT was set up in 2014 as a charitable community benefit society to bring affordable housing to the upper Calder Valley, under direct community-led control. The CLT now has over a hundred local people who support its work and have become members.
Under the scheme, four of the bungalows will be owned and run by the Community Land Trust, while the remaining two will be owned by John Eastwood Homes. The almshouse trust, set up under the terms of Todmorden resident John Eastwood in his will, already operate twelve similar bungalows in Walsden. The land for the bungalows has been gifted to the CLT by Calderdale Council, which has worked closely with the organisation since its incorporation.
Andrew Bibby, Secretary of Calder Valley Community Land Trust, said: "We're delighted to have arrived at the point where we can demonstrate that community-led housing actually delivers results. The new bungalows will be energy-efficient, cheap to heat, and designed to meet the needs of older local people. They will be homes which we know will be much loved by their residents."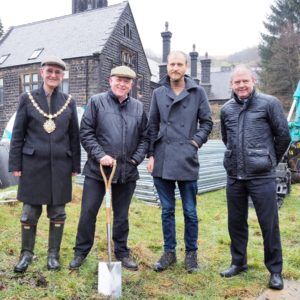 Chris Barker, Trustee of John Eastwood Homes, said:  "We know already how much demand there is for bungalows like this in Walsden and Todmorden. We are thrilled that very soon another six bungalows will be taking their first new residents."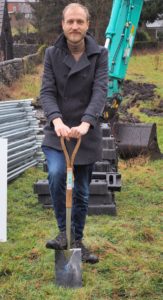 Cllr Dan Sutherland, Calderdale Council's Cabinet Member for Planning, Housing and Environment, said: "We are really pleased to support this scheme as part our commitment to providing much-needed, quality, affordable homes in communities across Calderdale. This has been a real partnership approach and a great example of community-led development, showing the steps that local people can take to tackle housing needs together."
 The development, which will cost about £800,000, is being funded in part from the reserves built up through prudent financial administration by John Eastwood Homes, in part through government grants made available through the Homes England agency, and also through other grants and loans. The Quaker Housing Trust is contributing £45,000 in loan and grant finance, and around £60,000 is being lent by local people investing in the CLT through a community share issue. Calderdale Council is also making a grant, in exchange for nomination rights.
 The help and support of Homes England during the planning of the project has been another crucial aspect of the success of the venture. The Walsden development represents one of the first investments by Homes England in a community-led housing development in this part of Yorkshire.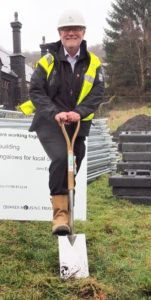 Richard Panter, from Homes England, said: "We've worked with the Land Trust from its inception and are pleased to have been able to fund these new homes for older people in the Calder Valley. The Walsden development is a great example of Homes England's commitment to increasing the supply of affordable homes which will help residents to continue living independently."
Statement from Calder Valley CLT trustees, Feb 5th 2019
 Calder Valley Community Land Trust is enormously disappointed at the decision by Calderdale's planning committee today (Feb 5) to reject proposals for new affordable homes to rent in Hebden Bridge.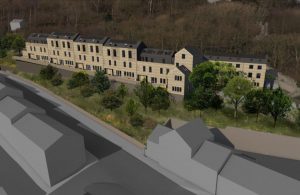 The not-for-profit proposal would have seen twenty new homes built on the site of the former High Street, a densely packed terraced area of the town bulldozed in the 1960s.  The council's decision comes after more than three years of detailed planning for the new homes by the local member-based charity. The plans, as presented to planning, had been designed and refined following four well-attended public consultations in the town, as well as a drop-in exhibition session in Hebden Bridge Library.
The councillors on the planning committee went against their own officers' advice, which was to permit the Community Land Trust's development. They also went against verbal statements in support of the proposal, made at the committee by local ward councillors Cllr Sarah Courtney and Cllr Dave Young, and by Town Council leader Cllr Carol Stow.  The land in question is scheduled for residential development under the Calderdale Local Plan (approved by Council and now with the Secretary of State).
Three councillors voted to reject the application, and two voted in favour. The sixth member of the committee, the Chair Cllr Sweeney, had withdrawn from the meeting since he himself is a CLT member.
Twenty-three members and supporters of the CLT were in the planning committee room, to listen to the councillors' discussions.
Simon Brearley, Chair, said: "We will consider carefully the decision of the planning committee. The trustees of the CLT will meet next Monday. As a member-run organisation, we will be listening very much to what our members and supporters think."
He stressed however that this setback will not prevent the CLT from continuing in its mission of creating low-cost quality affordable homes to rent in the upper Calder Valley.  The builders of the CLT's first development, of six independent living bungalows at Walsden, are scheduled to be on site very shortly. The CLT also owns the Fielden Hall community centre in Todmorden and is in discussions with Network Rail about the long-term conservation of the heritage Hebden Bridge Signal Box.
"Although this has been a highly disappointing afternoon, and the decision went against us by the narrowest of majorities, we want to thank all those friends who gave up their time to come along and join us for the committee meeting," Simon Brearley added.